Healthy Recipes to Try While Staying Home

Healthy Recipes to Try While Staying Home
Health     Food     Recipes     Quarantine
Being stuck at home for any extended period of time has the potential to result in lethargy. Particularly when it comes to maintaining a healthy and balanced diet, reaching for your computer to order take out seems like a much better option than spending time in the kitchen. A common myth about healthy eating is the notion that it takes copious amounts of time and effort. In reality, most recipes require minimal prep and cooking time.
And while some grocery stores are still running low on supplies, all of the recipes below use common items.
---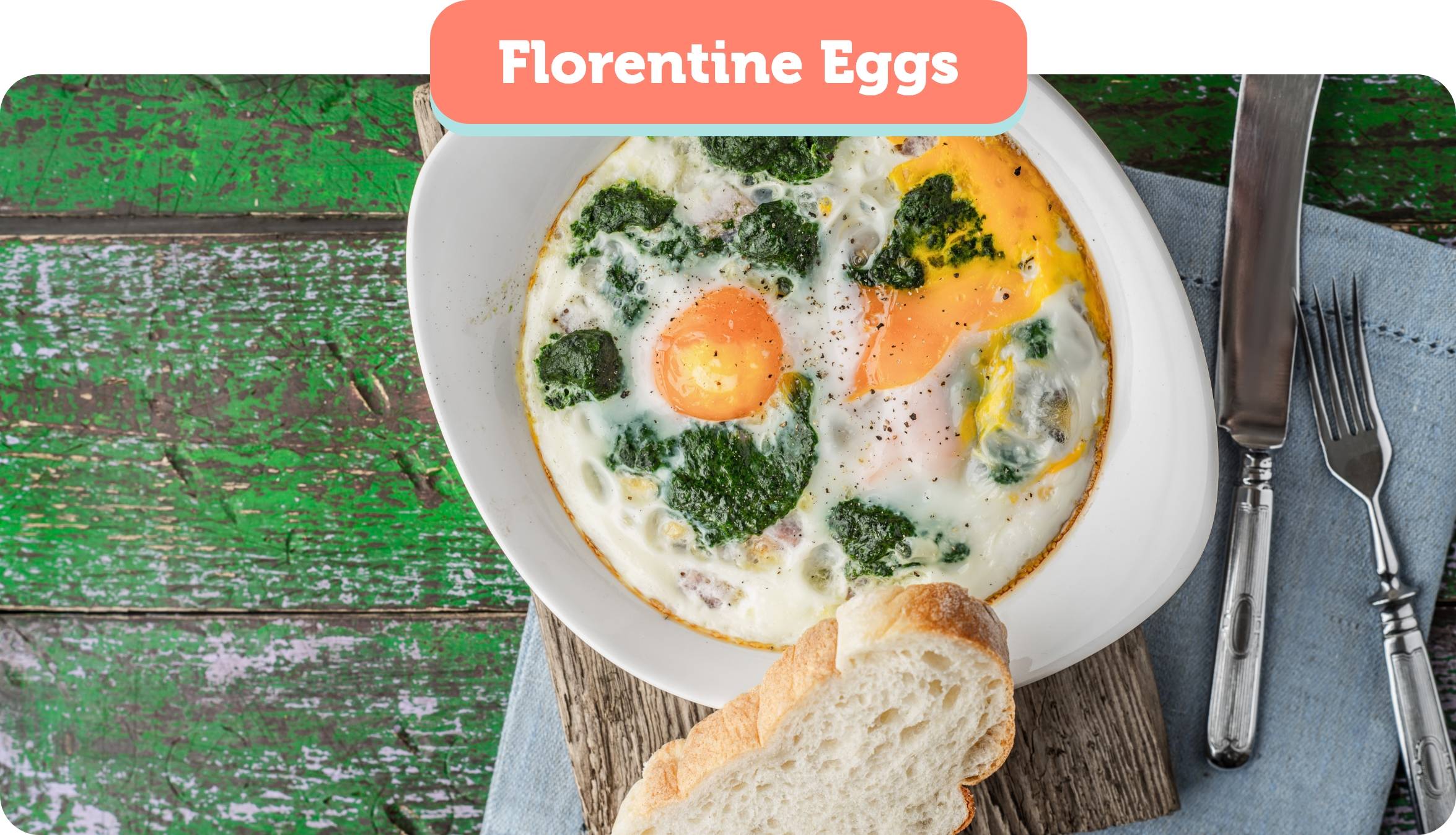 It's long been said that breakfast is the most important meal of the day. Because we use food as a source of energy, making sure that you have a delicious and nutritious meal is important. Florentine Eggs are packed with protein and will leave you feeling satisfied. With a prep and cook time of half an hour, it's easy to make and requires minimal ingredients.
In order to make a 2 serving portion of this recipe you'll need:
6 large eggs

1 tablespoon of milk

Salt and ground black pepper

3 tablespoons of Olive oil

1 tablespoon of sliced onion

1 clove of garlic, minced

½ cup of sliced mushrooms

½ cup of spinach

4 cherry tomatoes, sliced

2 tablespoons shredded mozzarella

2 tablespoons of grated Parmesan cheese
This recipe can easily be tailored to fit your specific needs. If you do not want to add cheese or garlic to the eggs, simply skip over those ingredients and use something else like green bell peppers.  

If you want to learn more about this recipe, click here.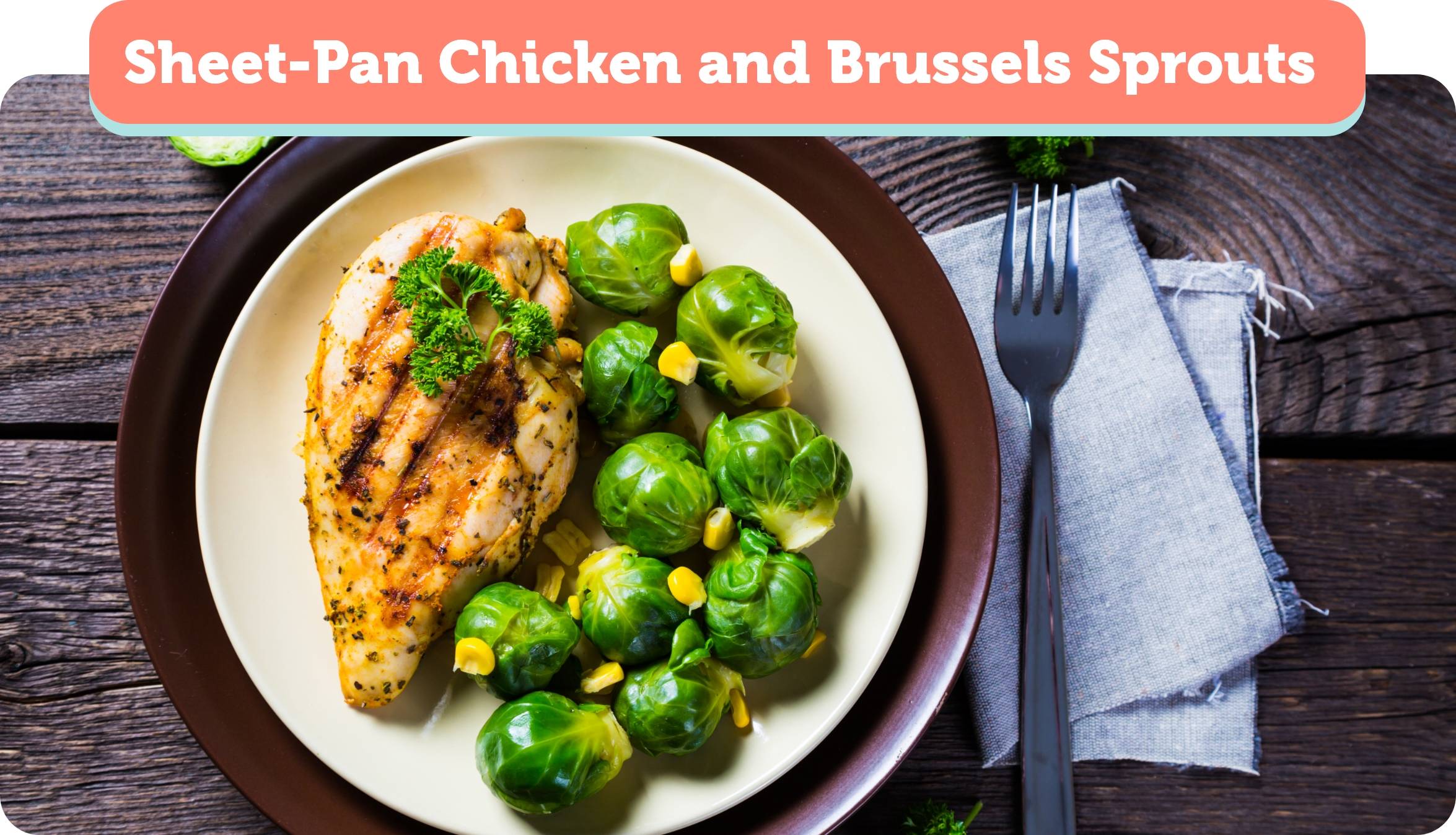 As the name suggests, you'll need two main items to make this recipe: chicken and Brussels sprouts. Brussels sprouts are part of a group of vegetables that children and adults seem to avoid. Low in calories and high in fiber and minerals, adding them to your diet is incredibly beneficial. How you decide to season the chicken is completely up to you. Whether wanting to simply use salt and pepper or incorporate additional heat by using ground cumin or chili flakes, there is no right or wrong way to make the chicken.  
In order to create this recipe for a servings size of 2 you'll need:
1/2 lb of Sweet potatoes (cut into ½ wedges)

1 tablespoon of Olive oil

¾ teaspoons of Salt

¾ teaspoon of Black pepper

2 cups Brussels Sprouts  

0.5 ¼ pounds of Chicken thighs

½ teaspoon of Cumin

½ teaspoon of Dried thyme

1.5 tablespoons of Sherry vinegar
Use the above recipe as more of reference than strict guidelines that you must adhere to. If you are going to make this recipe for more than two people or want to meal prep for the week, adjust the serving size accordingly.

In order to get a step by step breakdown for how to cook this recipe, click here. Only taking 35 minutes to make, this is a recipe you can revisit time and time again.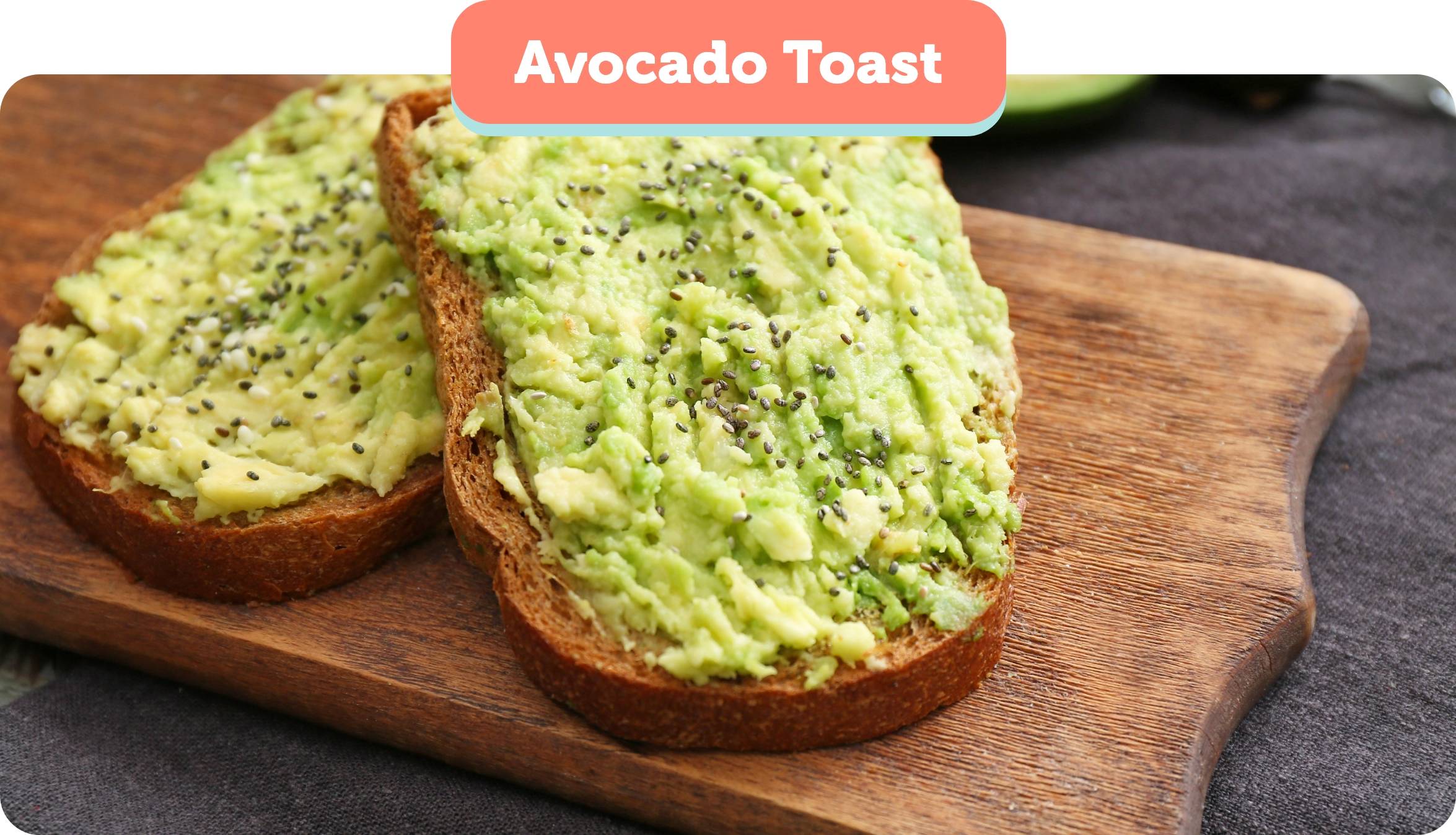 For anyone that is cooking inept, avocado toast is a recipe that is very difficult to mess up. Incredibly quick to make, it is both a delicious and filling dish that can keep you going for hours. Avocados are filled with important nutrients like potassium and fiber. Avocados are considered a high-fat food, with 77% of its calories being fat. However, the type of fat that avocados contain is called oleic acid. Oleic acid is associated with reduced inflammation and studies have shown that it has been beneficial in affecting genes linked to cancer.  
Because Avocado toast is a pretty straight-forward dish, you can make it as simple or intricate as you wish. To make a standard dish for 4 people you will need:
1 8-ounce ripe avocado, halved, pitted, and peeled

Salt and pepper  

4 slices of whole wheat or whole grain bread

1 clove of garlic (halved and peeled)

2 tablespoons of olive oil or unsalted butter

Crushed red pepper flakes (for an added layer of heat)
Avocado toast has become a go to meal for health conscious communities. If you want full directions to recreate this tasty snack, click here.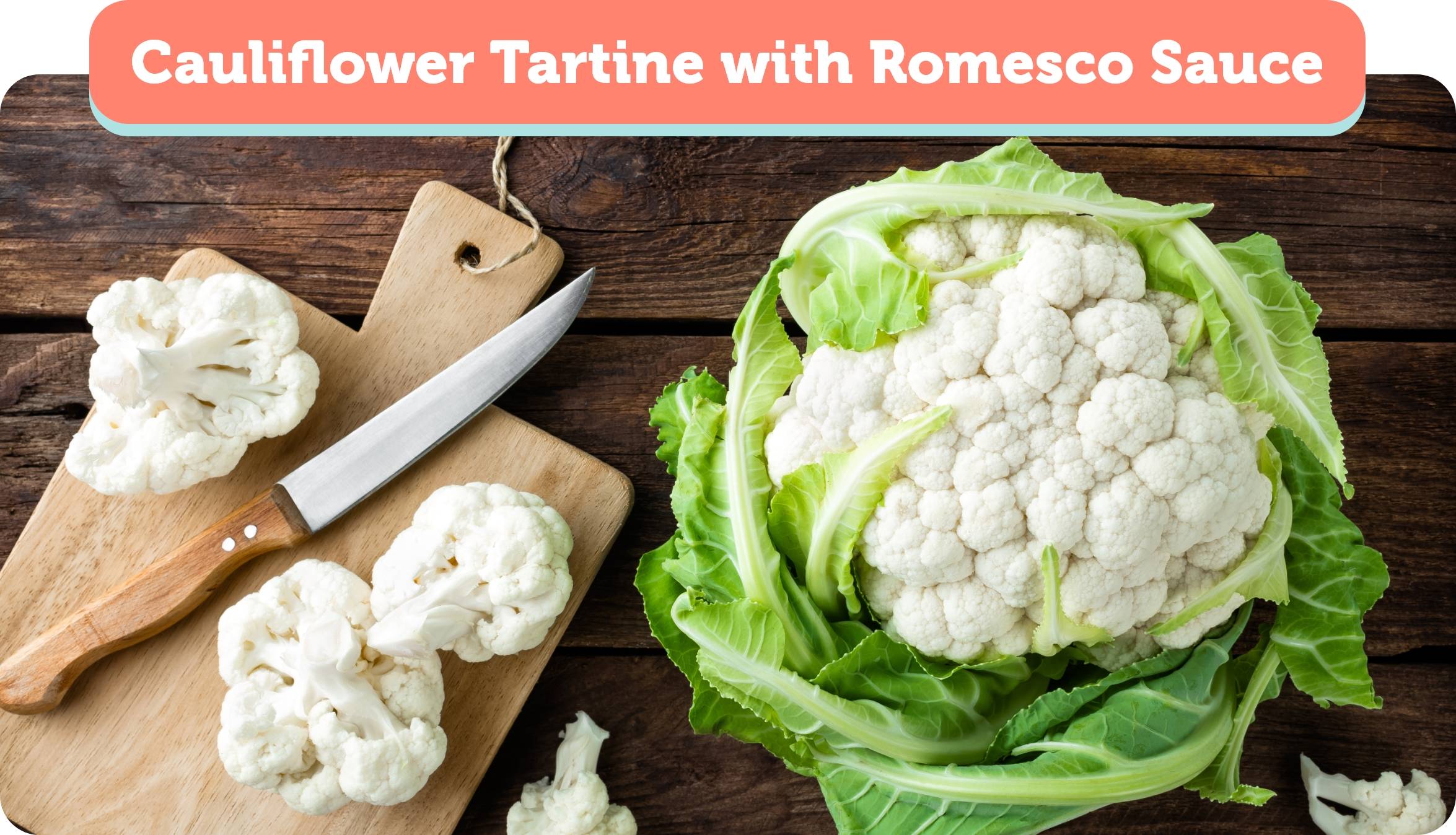 As the world becomes more conscious about the benefits of plant-based eating, vegan recipes have moved far beyond the standard salad. Plant-based eating is not only good for the environment but also presents great benefits for your body. From lowering the risk of heart disease to regulating weight, plant-based diets are much more than a fad.
For anyone that wants a dish that combines healthy ingredients with delicious flavor, Cauliflower Tartine with Romesco Sauce is the perfect choice. An open faced sandwich, you will need a knife and fork to eat it but with its combination of garlic, raisins, and vinegar, you'll get a great blend of sweet and salty.
½ small head of cauliflower

2 tablespoons of golden raisins

½ cup of water

½ cup plus one tablespoon of apple cider vinegar

2 cloves of garlic (preferably smashed)

1 ⅛ teaspoon salt

2 tablespoons plus one teaspoon of olive oil

⅓ cup roasted unsalted almonds

⅓ cup drained roasted red bell peppers

1 tablespoon of canned tomato paste

⅛ teaspoon of ground black pepper

⅛ teaspoon of crushed red pepper

2 (1-inch-thick) sourdough bread slices

Fresh parsley leaves
This recipe reads like it has a lot of contrasting flavors but when mixed all together, a very delicious meal is created. If you want to learn more about how to make this dish, click here.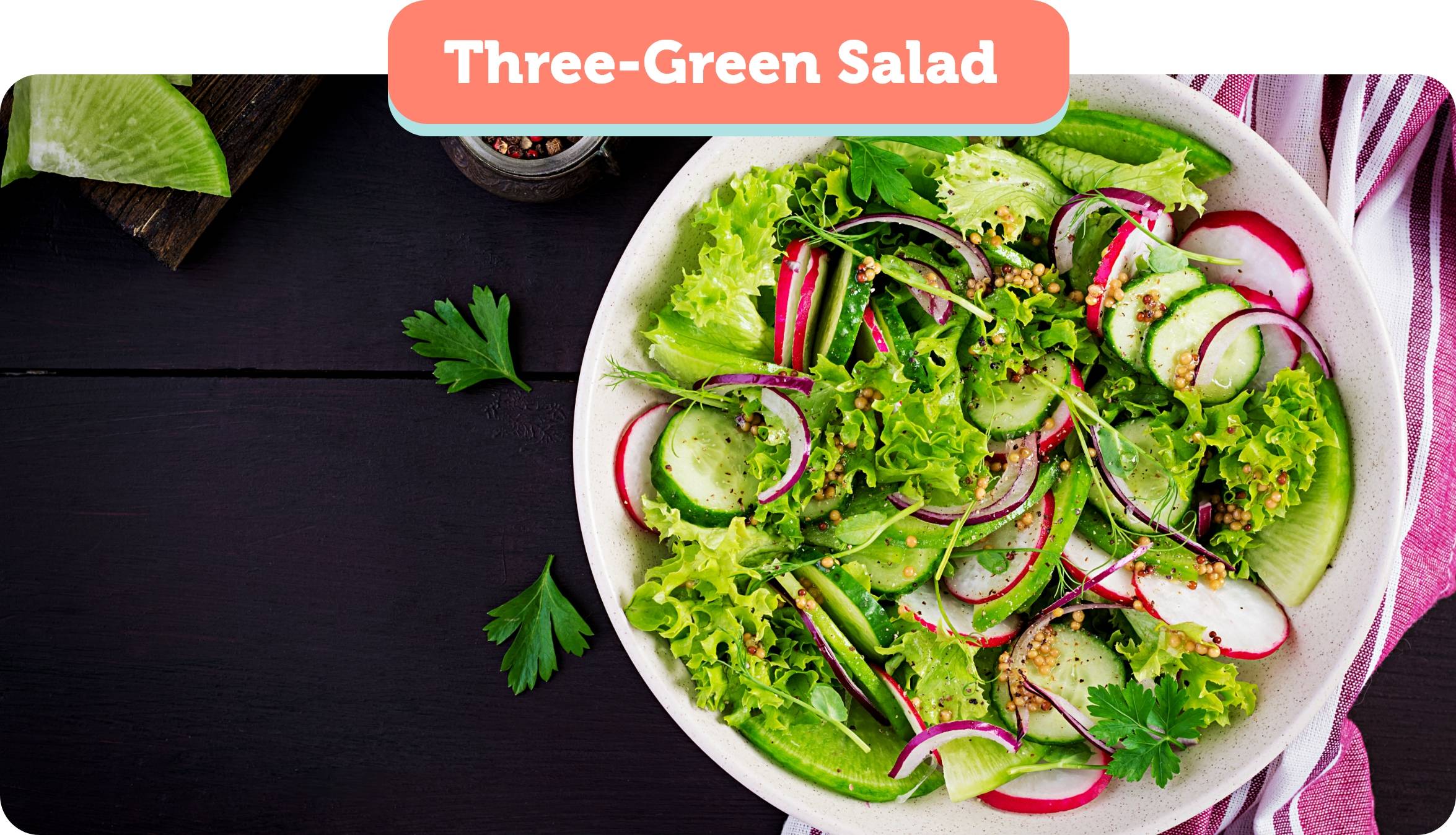 Nothing says healthy or refreshes the body like a salad. Filled with different vegetables containing incredible amounts of nutrients, salads are widely viewed as the gold standard for all things healthy.
If you're looking to create a salad that doesn't require any cooking, the Three-Green Salad is a perfect choice. Whether opting to use fresh or prepackaged vegetables, the end result will be a refreshing salad that you can eat at work or after a gym session.
To make this 12 serving salad you'll need the following ingredients:
4 cups of torn leaf lettuce

4 cups of torn fresh spinach

1 medium cucumber, sliced

2 carrots

2 celery ribs, sliced

6 fresh broccoli florets, sliced

3 fresh cauliflowerets, sliced

6 radishes, sliced

4 green onions, sliced

5 mushrooms, sliced
For those who want to make the complimentary Italian dressing you'll need the following ingredients:
⅓ cup of Olive oil

¼ cup plus 2 tablespoons of red wine vinegar

2 tablespoons of grated Parmesan cheese

1 teaspoon of sugar

1 or 2 garlic cloves, minced

¼ teaspoon of dried oregano

¼ teaspoon of dried basil

Salt and pepper
The salad dressing is completely optional. If you are not a fan of cheese or do not like the idea of adding sugar to your dressing, bypass those ingredients. You can also play around with different measurements of olive oil and vinegar to see if adding or subtracting suits your palette.

In order to learn more about this recipe, click here.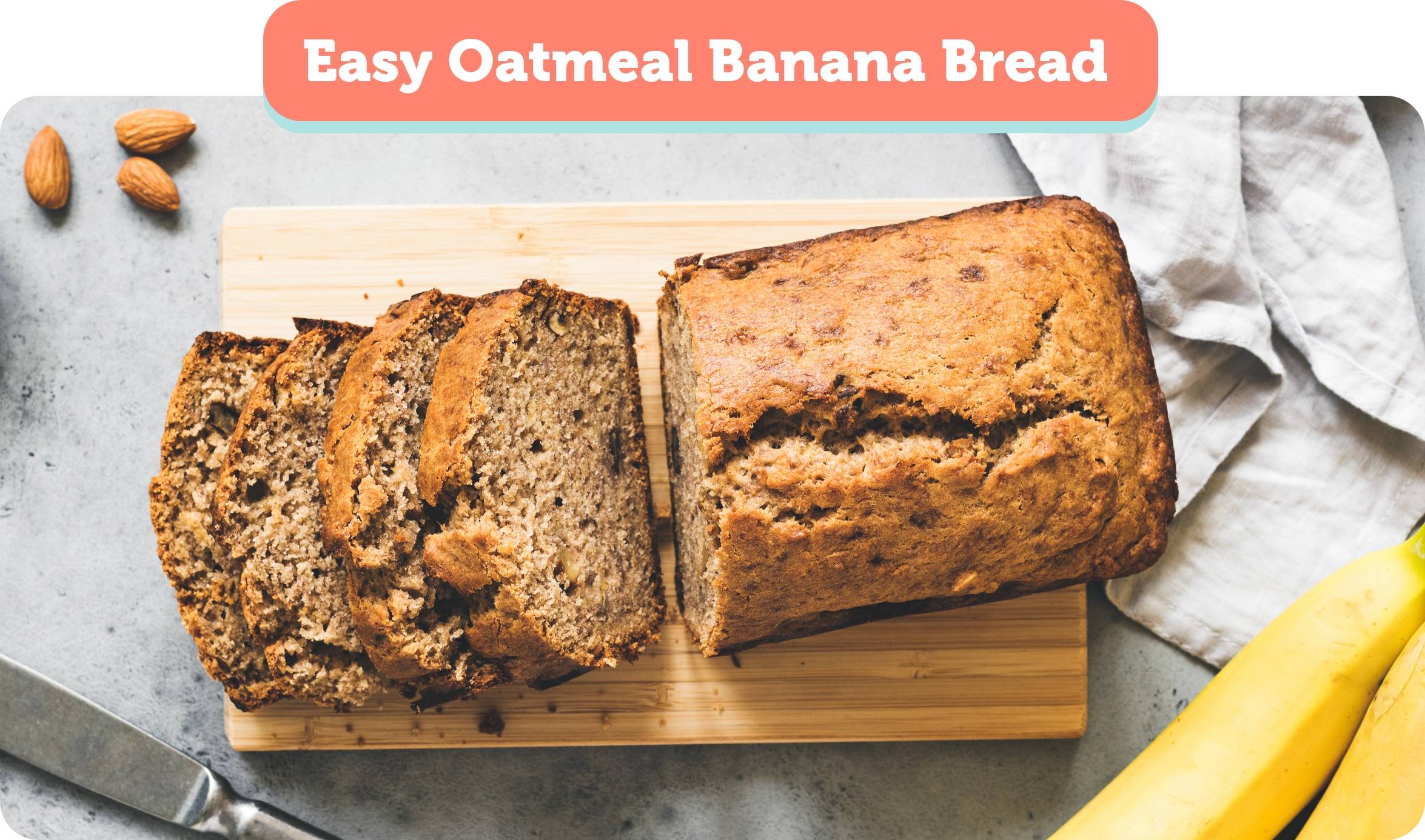 It seems that no matter your intentions, bananas ripen faster than you can eat them. Instead of throwing those bananas away, make use of them by creating a healthy banana bread. Just because you're making a dessert doesn't mean that you can't adjust your recipe to put health at the forefront. By using oatmeal, you have the added benefits of improved blood sugar, lowered cholesterol, and fiber intake.  
To make this recipe for a serving size of 10 you'll need:
1 cup of Oats

1 ¼ cup of All-purpose flour

½ cup of Brown sugar

½ teaspoon of Kosher Salt

½ teaspoon of Baking soda

¼ teaspoon of Baking powder

½ teaspoon of Cinnamon

3 bananas

2 large eggs

1 teaspoon of Vanilla extract

3 tablespoons of Cooking oil

⅓ cup of Walnuts
If you're someone that isn't a fan of walnuts, you can always substitute it with raisins, pumpkin seeds, granola, or dried cranberries.  

If you want to try your hand at baking, click here. You may find that you have a hidden talent in the kitchen.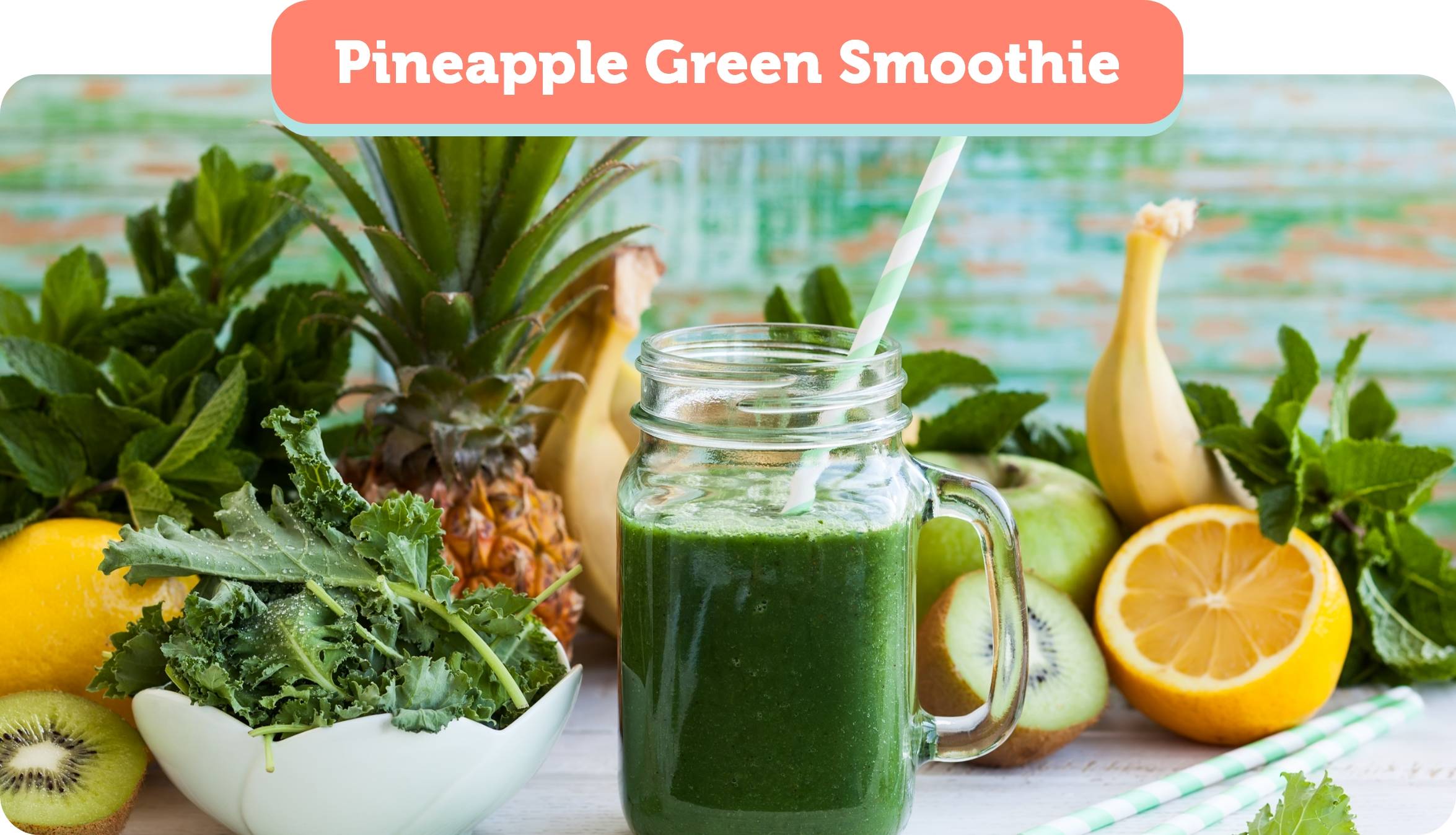 Sometimes, all you need is a quick snack to get your morning started. Smoothies are an excellent method of gaining nutritional value without feeling heavy or bloated. Great for bone health, high in fiber and calcium, and gluten-free, the Pineapple Green smoothie is an all-around fit for anyone looking to take their health seriously.
In order to make this 1 serving smoothie you'll need:
½ cup unsweetened almond milk

⅓ cup of nonfat plain greek yogurt

1 cup of baby spinach

1 cup of frozen banana slices

½ cup of frozen pineapple chunks

1 tablespoon of chia seeds

1-2 teaspoons of maple syrup or honey
Chia seeds are excellent for digestive support, are high in protein, promote weight loss and teeth health, and regulate blood sugar.  
Pineapples are known to improve immune system functionality, provide natural energy and fuel to the body, and help to strengthen bones.

If you want to learn more about this recipe click here.

Eating healthy is often viewed as a chore that people have to do but don't necessarily want to do. Although many people are taking their health seriously due to COVID-19, eating healthy is a habit that should stick with you long after this is over. And while eating fruits and vegetables may not sound appealing at first, with the right amount of seasoning and imagination, anything can taste delicious.  
With all of the immune and digestive benefits that eating healthy provides, your body will reap rewards for many years to come.