How to stay safe during quarantine

How to Stay Safe During the Coronavirus Pandemic
Health     Hand Sanitizer     Coronavirus     COVID-19
The Coronavirus seems to be the only thing people can talk about these days. From it's incredibly quick spread around the world to unknown details concerning a cure, several different measures have been created to keep everyone safe. And while many of us are quarantined at home, there will come a time when you'll need to leave. During those times, it's incredibly important to take precautions to stay safe and decrease the chances of contracting COVID-19.  
Below are steps that everyone can take to optimize their chance of staying safe.

Before looking for solutions to combat the Coronavirus, knowing how it spreads is important. Experts state that the Coronavirus spreads mainly from person-to-person contact. In other words, being close to others leaves you at risk of contracting the virus.  
And while many have adopted the tactic of avoiding anyone that is coughing or sneezing, a person that is the picture of good health could unknowingly carry the virus. When it comes to Coronavirus, treating every person with the same amount of caution will keep you safe.
Although it may be a hassle, the number 1 method of staying safe is pretty simple: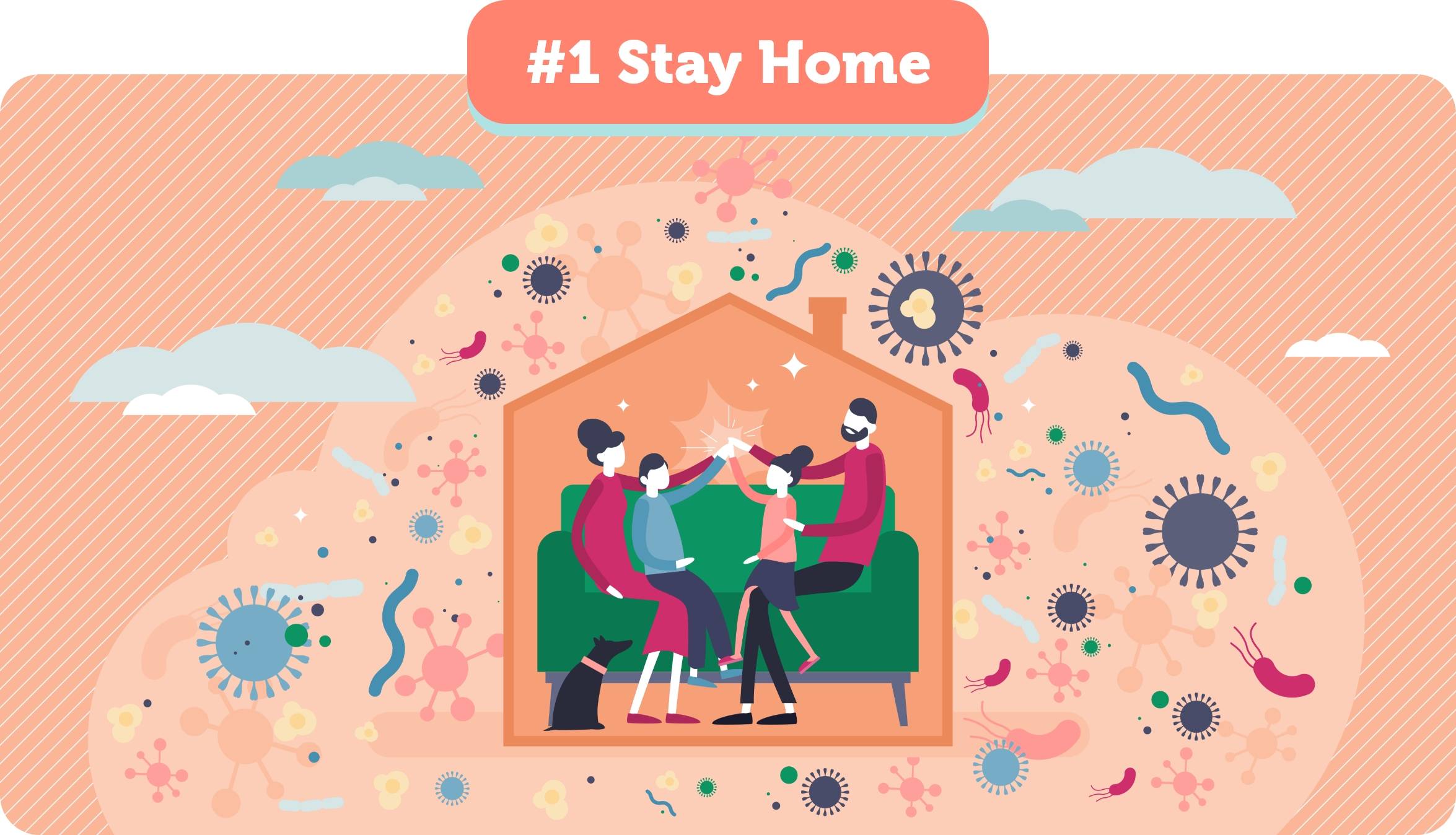 Unless the errand is necessary, such as going to the grocery store, keeping yourself isolated from the general public decreases the risk of catching or spreading the disease. Being forced to stay at home may seem like you're under house arrest but take this as an opportunity to work on projects or activities that were brushed aside because you didn't have the time. If you're in need of ideas of things that could be done at home, you could try:
Learning a new language
Watching an entire show from start to finish on Netflix
Looking up new recipes
Beginning an online class to advance your career
Because the Coronavirus spreads through person-to-person contact, government and public health officials have recommended keeping a distance of (at least) 6 feet to others. Unless you're an NBA player, that equates to roughly two arm lengths.

Grocery stores and other shopping centers have implemented marked areas where customers must stand when they are checking out in order to comply with the rules of social distancing. For places that may get crowded, businesses have also taken extra precautions of only allowing a certain amount of people to enter at a time.
Although it's tough not seeing your loved ones face-to-face, stay connected with them through video, phone calls, or text messages.
While many people may roll their eyes, washing your hands is something that is done incorrectly all of the time.
The CDC recommends that a person wash their hands for at least 20 seconds. And by seconds, it should not sound like you're trying to win the world's fastest speaker contest when counting. Every surface on your hands should be covered with soap before rinsing off. It's a sad fact that several of us forget to apply any soap to the back of the hands or between fingers. For reference, here is a quick checklist of the areas of your hand that should be washed every single time.
Palms and back of hands
All sides of fingers and fingernails
Webbing by the first finger and thumb
For those who are nail-biters, take special precautions when cleaning underneath your fingernails.
If you're still in doubt about how to wash your hands, check out this video from Babylon Health. It's a quick yet thorough demonstration of proper handwashing technique.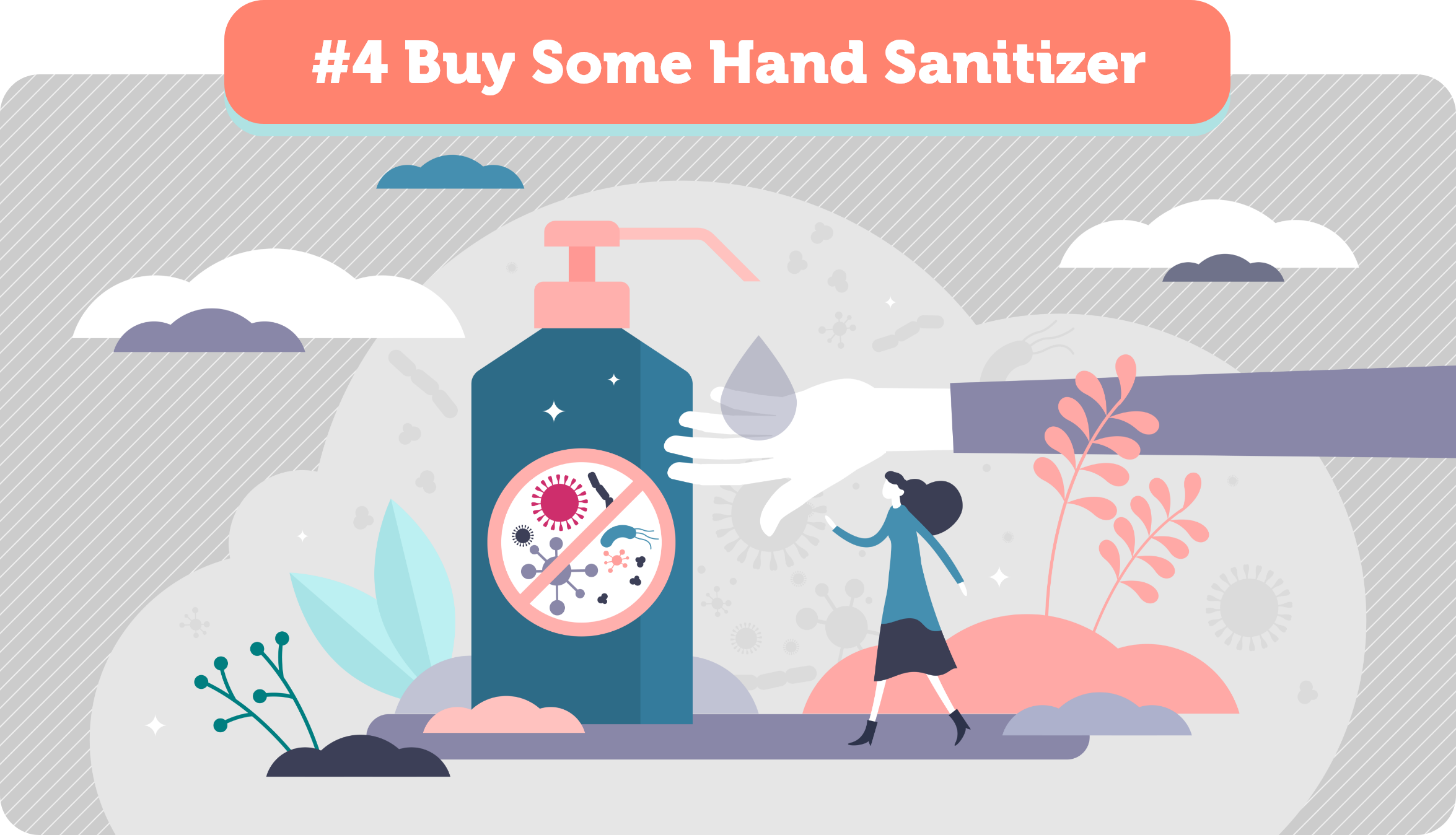 Although nothing substitutes washing your hands, taking the time to purchase a high quality hand sanitizer can allow for less stressful moments. Many grocery stores and other shopping centers do offer the courtesy of wiping down carts before every use but just in case that does not occur, hand sanitizers work as an extra shield.
According to the World Health Organization, for a hand sanitizer to be considered effective, it needs to be composed of (at least) 60% alcohol. Alcohol acts as the main active ingredient in most sanitizers and works by penetrating a cell wall and breaking it down.  
If you have no idea where to find a hand sanitizer, MUSE is currently offering a high-quality and affordable one. With its sturdy cap, you can place this sanitizer in your bag or purse without the risk of unwanted spills.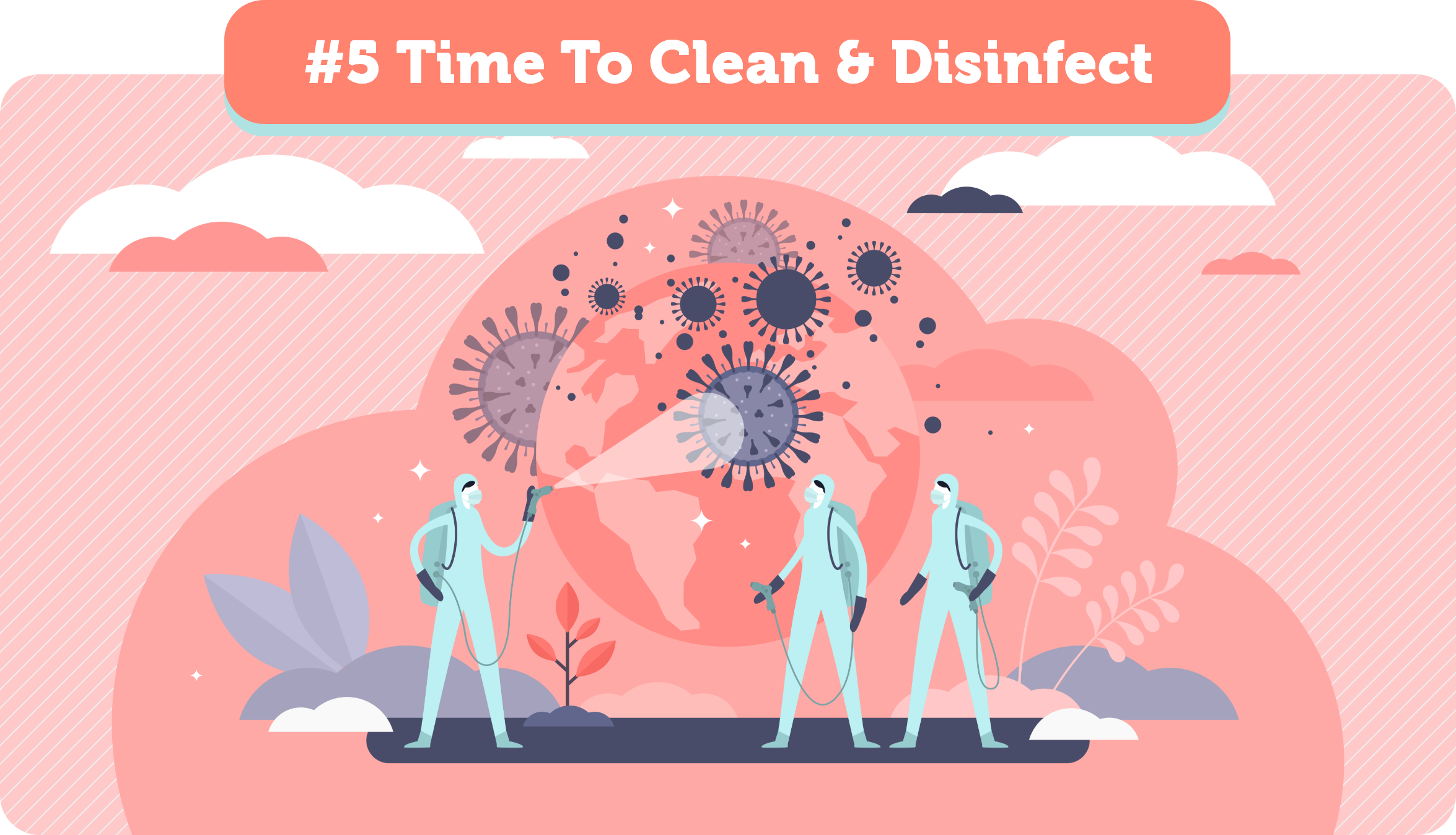 For any high traffic areas in your house, apartment, office or car, making sure to disinfect helps to stop the spread of germs. And while you don't have to become a Monica Geller level neat freak, consciously cleaning up after yourself ensures that the virus stays at bay.
The National Institute of Health has found that COVID-19 can remain on surfaces for hours up to several days. Especially for those who live with roommates or share communal dining areas, getting in the habit of cleaning surfaces before and after use ensures the best possible outcome. Clorox disinfecting wipes are an effective brand that kills germs and leaves your surfaces spotless.
Make sure to take extra care when dealing with your cell phone. Acting as an extension of our arm, cell phones are taken everywhere from bedrooms to public bathrooms. Because they are used at such a high frequency, using disinfecting wipes to clean your cell phone helps to remove potentially pathogenic bacteria.  
This video from Tech Insider sheds light on the issue.
A source of confusion for many people has been the debate concerning whether or not to use a mask when out in public. When COVID-19 first broke, there were conflicting reports about face masks and its ability to prevent the spread of the virus. As of now, the CDC recommends wearing a cloth face mask as a preventative measure. In several states, one must wear a mask whenever they exit their home.
With masks running in short supply, the CDC has created a step-by-step guide for those who want to attempt to make their own mask. This cloth mask can be made from an old t-shirt or blanket that you were thinking of tossing away.
If you're more of a visual learner, this 10 minute tutorial by LaurDIY is a great place to start.  
Word of caution!
The Red Cross highly warns against placing face masks on children under the age of 2, anyone who has trouble breathing, or is incapacitated, unconscious or otherwise unable to remove a mask without assistance from others.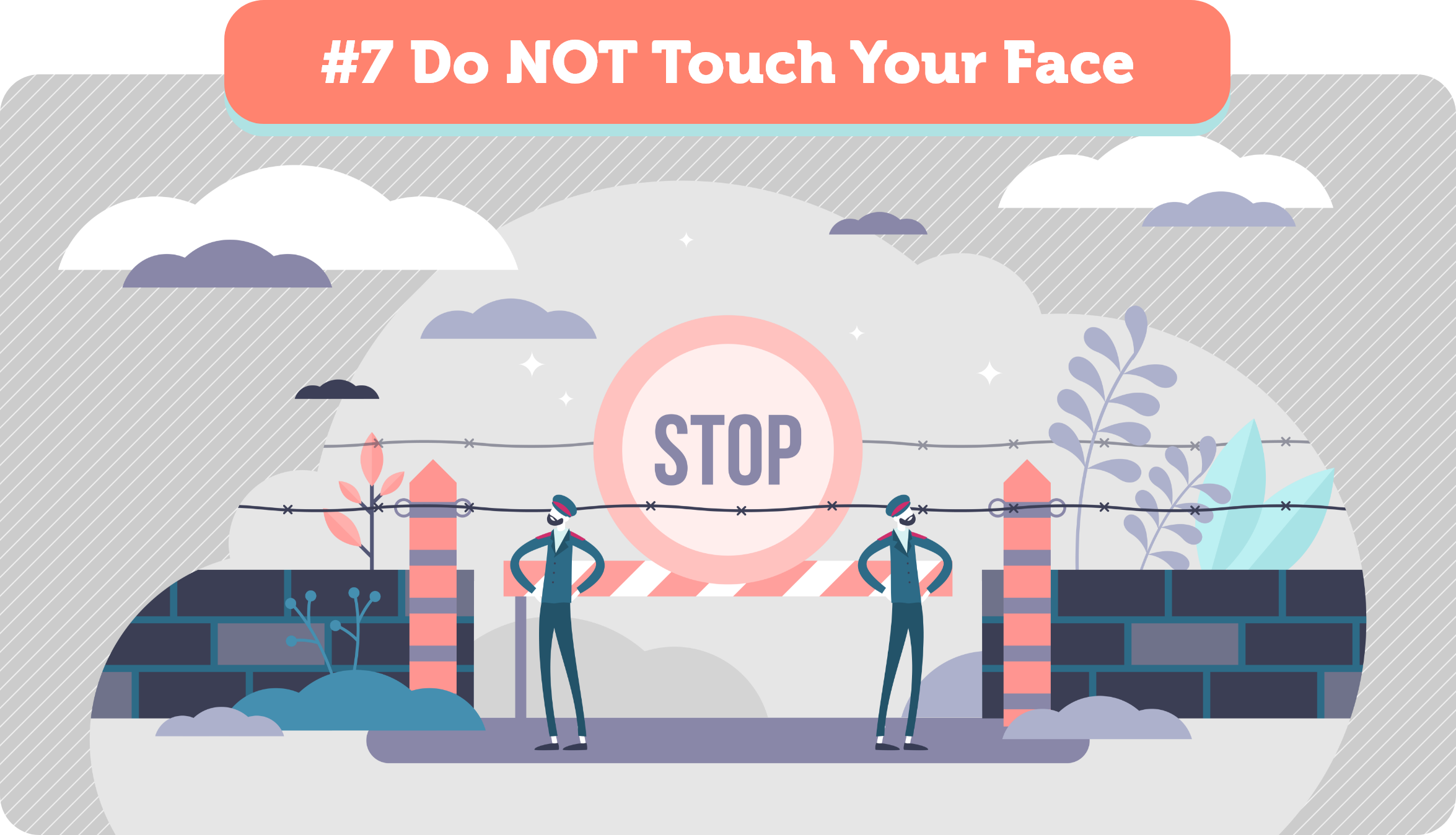 Did you know that the average person touches their face at least 2000-3000 times per day? Every time a person touches their mouth or nose, they unknowingly transfer bacteria between their hand and areas of their face. Without washing your hands properly, you may end up spreading bacteria from one area of your body to the next.
This also works in the reverse. If you touch your face and place your hand on a sanitized surface, you can then transfer bacteria to a surface that several other people come in contact with. Everyone subconsciously touches their face from time to time but keeping aware of those moments also acts as a reminder to wash your hands before doing so.
Unfortunately, people that have taken every single precaution imaginable may still end up with the virus or sick in general. And while several employers have allowed for work-from-home set ups, not everyone has that luxury. If you are someone that is considered an "essential worker", (for example pharmacy, airport, food and agriculture workers), speaking with your employer about your current situation is a must.
Being sick while handling something like food could cause the virus to spread to other employees and lead to the premature shut down of a company.
Unless you're heading to a doctor's appointment, staying home while sick is the best way to protect both yourself and others.

Staying safe is something that takes effort and careful preparation. During this pandemic, it may appear as though the concept of social distancing is the definition of paranoia. All of the steps laid out by the CDC and other health organizations were made in an attempt to flatten the curve.  
With new developments occurring every hour, making sure to stay abreast of the news is crucial.
CNBC offers great articles and up to the minute stats about the Coronavirus.